Waheguru Ji Ka Khalsa! Waheguru Ji Ki Fateh!
Waheguru Jeee completely ignore the post from a few minutes or so ago, and look at this: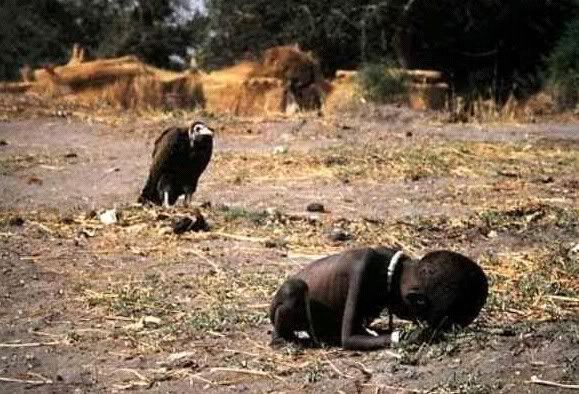 I'm pretty sure at least some of you have seen this photograph of a child in Sudan, who is trying to crawl to a UN food camp about a mile away. The photographer who took this picture didn't wait to see what happened to the child (the picture was taken in 1994 I believe), and the world doesn't know. The photographer also committed suicide three months later, due to depression.
You can see the vulture in the background, looking as if it is just waiting for the child to die..
I was immediately reminded of Baani.. I am such a tremendous murakh that I know there is a Pangtee relating to this, but my limited knowledge of anything related to Sikhi prevents me from posting it here.. will look into it.. it seems as though we are just like this vulture - waiting for an oppurtunity that benefits us, at the expense of another poor soul.
Waheguru Ji Maharaj.. Kirpaa karo..
bhull chuk maaf..
waheguru ji ka khalsa waheguru ji ki fateh